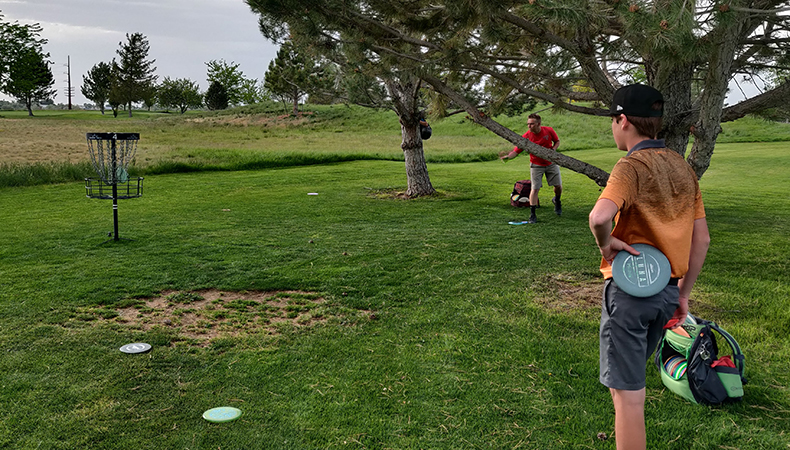 After the coronavirus pandemic caused a two-month hiatus that canceled or postponed 645 events, 36 eager competitors flocked to a golf course in West Point, Utah, Monday night for the official return of PDGA-sanctioned play.
Social distancing and driving winds were on the agenda at Schneiter's Bluff Golf, where Shawn Swapp hosted and participated in the Bluff Out the Back C-Tier. Though it drew a small crowd, the tournament's historic significance is already large, an important step back toward normalcy for the sport.
"Everyone was pretty relieved to be out there," Swapp, a teacher at Davis Technical College, said. "I think we would have had more attendance out there, but we had constant 25 mph winds."
Davis County, where the event took place, currently falls under Utah's "yellow" risk category for coronavirus, which allows for events of up to 50 people as long as social distancing is maintained. Swapp ensured as much by using tee times, distributing event information via Facebook, handling payout online, and employing the PDGA Digital Scorecard.
He also vetted his event operations with the county's coronavirus task force, who he has maintained contact with while running a casual league the past couple months. Masks weren't required, but hand sanitizer was in high supply; someone accidentally left a bottle behind on hole 3.
"I tried to make it clear that social distancing was required, you know what I mean?" Swapp said. "First and foremost we want everyone to be safe."
Chris Morgan, who won the Pro Masters 40+ division with a 985-rated 2-under par 56 on the 7,609-foot track, said everyone respected the guidelines set forth for this new era of competition — even if they had to make some strange adjustments.
"I played on a card with three very good friends, and it's hard — you wanna high-five, you wanna hug, and one I haven't seen since everything got weird," Morgan said. "And it's hard to do that and to try to maintain that. But it's good.
"Everybody kind of stands a little bit further away from each other," he continued. "The social aspect, hanging out in the parking lot and stuff — that was weird…But we did get to visit for a minute, so that was nice."
Indeed, Swapp said most players brought a "come, play, leave" mindset to the tournament. The few that did socialize after, though, did so responsibly.
"You could tell everybody was keeping their distance," he said. "Everyone was sitting on their Zuca cart eight, 10 feet apart after the event."
And while Swapp used to favor shotgun-start tournaments, he said he likes the simplicity of running on tee times and that implementing the PDGA Best Practices for Competition During COVID-19 was pretty simple. He was the only person to handle players' packs, for example, and the golf course environment allowed for easy monitoring of group sizes. In fact, he said he was more likely to run tee time-only events going forward.
"It didn't feel difficult at all," Swapp said. "The difficult part was that it was short notice, right? We got the go-ahead on Friday that we could have sanctioned events…It seemed like business as usual with social distancing involved. It really wasn't difficult to do."
It was so smooth that Swapp is hosting another C-Tier tonight on Schneiter's front course. Morgan will be in attendance again, too, and he expressed confidence that disc golfers will continue to adjust to the new normal so they can keep playing.
"I was so excited to be back out there," he said. "It was good to see the guys. It was good to compete. I think things are just on the ups."
PDGA sanctioning continues to reopen in regional phases. Keep an eye on the list of places to play, as it is updated frequently.