This article was originally published in the Winter 2020 issue of DiscGolfer Magazine.
OK…I realize that some readers may not love these ideas. I just wanted to get them out there and hope you'll at least give them some thought.
Here's the thing: We have the opportunity to make our games as fun and satisfying as we possibly can. Most other parts of our lives are just not like that. Try changing how your boss sees the world or revamping our immigration policy. Our ability to change such things is very, very limited. A refreshing exception to that is these games that we so recently invented for ourselves. We still determine how they will be played — that's really quite extraordinary. An individual PDGA member can actually make a big change in the game over a pretty short period of time. Member suggestions are frequently put into play rather quickly — not just rule changes, but how we play the game. Local clubs often come up with innovations that spread very quickly.
In this article, I'm asking that we reconsider one aspect of how we have chosen to play the game. In the very beginning of competitive play, we found ourselves inevitably attempting to emulate our older cousins who play golf with a stick and a ball. For simplicity, I call that game "bolf." Now there are lots of admirable things about that ancient game, and many of them that it is to our advantage to adopt. However, I also think that there is one particular feature that we have taken on to our detriment.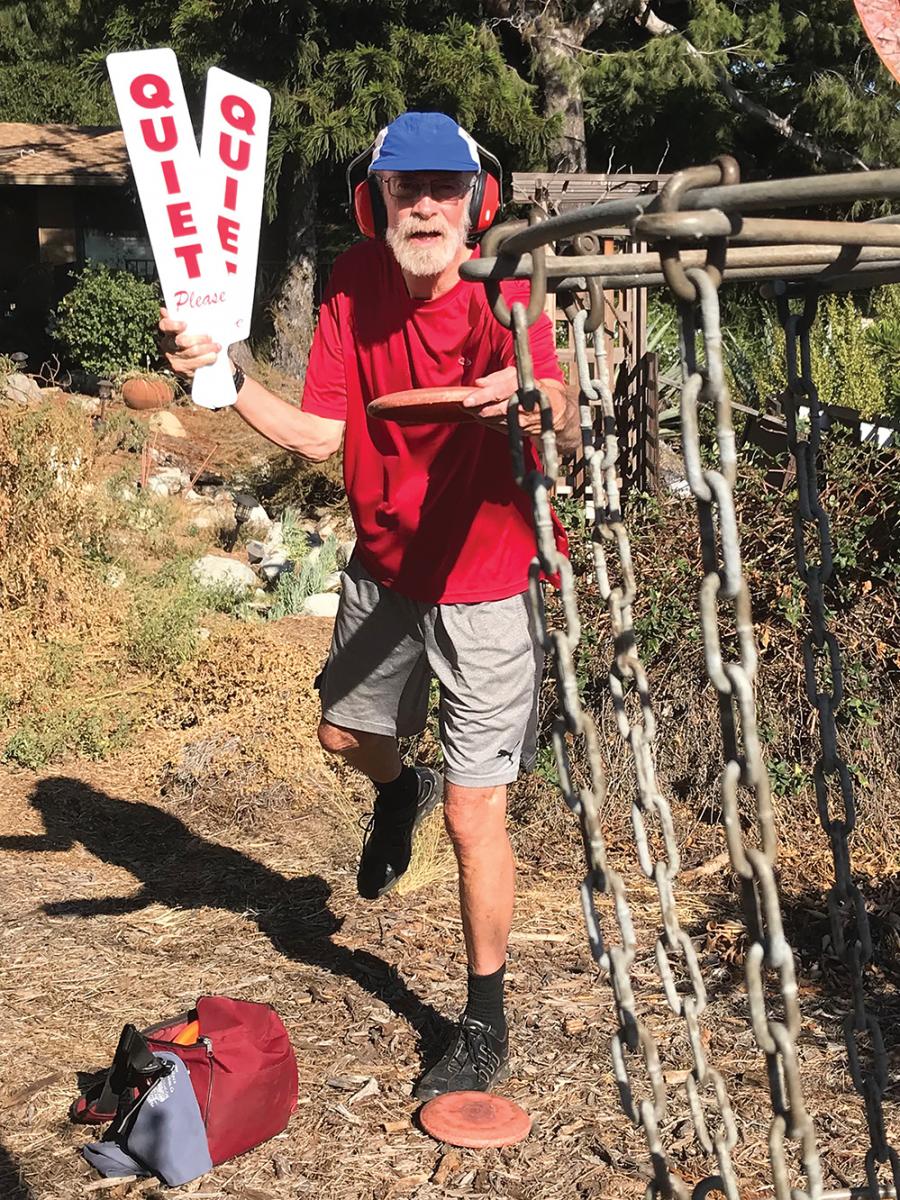 Is Ball Golf the Right Model?
As you know, the ball hitters have come to the conclusion that they can only swing the club effectively in complete silence. That results in a tremendous amount of effort to control spectators at events. There are legions of marshals assigned specifically to make sure that the gallery is dead quiet at the moment of the sacred swing. That's right — we have attempted to construct an 18-hole sports church, or maybe a library. Admittedly, part of the reason for the silence is it makes the activity seem more important. The fact is, there's no real reason that silence is required to execute a golf swing. It's all about the context that we have chosen to create. We need only compare a throw with a player shooting a foul shot in the NBA finals; there are 30,000 people screaming and the player calmly strokes it through the net. In many ways, it's a challenge similar to putting in both bolf and disc golf.
Yeti Wins a World Championship With the Crowd Cheering
Of course, other sports insist on this same kind of silence. Bowling traditionally quiets the crowd prior to the player's approach to the line. However, there is a current series of tournaments that actually encourages fans to express themselves as the bowlers are playing. It should be noted that there doesn't seem to be any reduction in the effectiveness of the bowlers in that noisy environment, and it's clearly a good bit more fun for the spectators. Speaking of which, we have some history of that ourselves. In 2008 at the Pro/Am World Championships in Kalamazoo, Michigan, Jay "Yeti" Reading won his first (of, count 'em, five) World Putting Championships in a theater in front of 1,000 fans. As Yeti recalls, it was hard to keep the crowd completely quiet for the three finalists. So, rather than chance being distracted by some random yahoo, Yeti decided to encourage the crowd to cheer him on during his putts.
It was epic. They hooted and hollered and Yeti drained putt after putt to take the title.
Actually, I'm guessing that almost all readers here would reluctantly agree that disc golfers could throw their shots even if they didn't have complete quiet. That's because we do it all the time in practice. That's the "normal" way to play.
So it comes down to weighing the costs and rewards of both options. Increasingly, I have felt that the costs of silence are unnecessarily burdensome for spectators, organizers and even players — especially when I see new spectators at one of our events who are intimidated by all the expectations. Not only is it often difficult for them to determine where the flight paths are going to be, but they also have to keep themselves and their children dead silent (and still) so as not to disturb any surrounding players. It's just not that fun. In fact, it feels pretty grim. Is that really what we want?
Expectation of Silence Can Backfire
Organizers, of course, have to also be prepared to enforce these expected standards. I included players in those sharing the burden because I truly believe that this expectation of silence works against the best chances of full concentration and focusing on execution of the task at hand. Seriously … the distraction expands to fill the space. Once the gallery has been silenced, now the player's ear is attentive to the unexpected squawk of a bird or the click of a camera. It's ridiculous, but true. I've seen almost imperceptible distractions disrupt players, let alone the one clown who yells, "MISS IT, NOONAN!"
Of course, the same is true of visuals. We have come to the agreement that we owe a player a completely still background. This often includes movement that is quite far away. Players wait for distant traffic to clear from neighboring roadways. Woe be to the hapless spectator who mistakenly adjusts her hat or picks up his child during a player's putting motion. I think that we end up creating an unnecessarily sterile setting in which spectators are much less likely to cheer great shots and enjoy our play.
And again, we simply must remember that in baseball, hockey, soccer, football and many other sports that players routinely make critical plays while taking little notice of raucous noise and chaotic visuals. Of course, they do just fine. It's all in how we choose to define the situation. I'm not suggesting that we have galleries actively taunting the players; we should obviously follow our courtesy rules and common sense. I'm just hoping that we can allow more normal activity while we play. Traffic should not need to stop. People in the gallery should be able to enjoy the moment without fear of being tarred and feathered.
OK, well, I warned you that this might not be love at first sight. I'm just hoping that our readers will consider this possibility and think about their mentality when they play.
For my part, I think I'm going to start giving out a mini that reads, in part, "I play 'No Worries' golf. When I'm throwing, you're welcome to do whatever you like" to players in my group before we tee off.
Then, if some others enjoy doing the same, maybe we'll end up offering some events that are announced as "No Worries" rounds. Seeing those experiments is really the only way we will be able find out if we like it. I truly think we would be happier with our game and further favorably distinguish ourselves from other sports.
And while we're next door to the subject, let's not continue to perpetuate the silly "don't nice my disc" thing. It's just another way to lose focus and shift blame. The disc is gone. Nothing we can do now will have any effect on the outcome of your shot. If someone is kind enough to compliment your throw, just say, "Thanks." If, unfortunately, something unlucky happens to your disc, it was still a good throw. Such things happen. We'll all throw better if we can free our minds from such distractions. A nice throw is a nice throw.
Life is short. Have fun out there.