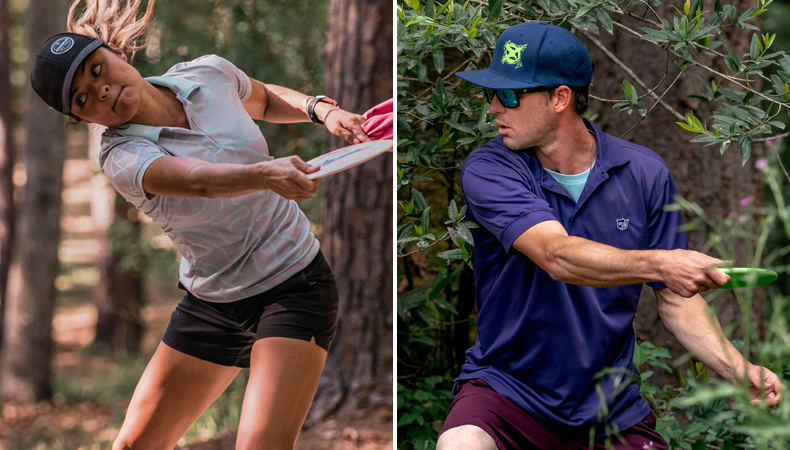 Making the transition from amateur to professional disc golfer is about more than just clicking a button and registering for a new division. It takes a belief in oneself that, despite the opportunity to be humbled, more growth is on the way.
Among the many who made the leap in 2019, two competitors were the most successful in navigating their new competitive status and earned PDGA Rookie of the Year honors: Luke Humphries and Christine Jennings.
Change in Mindset Powered Humphries' Late-Season Growth
Humphries, 32, was the 2018 PDGA Amateur Disc Golf World Champion and moved to the pro ranks two weeks later. He tallied up a total of 34 tournaments in 2019 and won seven of them, with his high finish on the PDGA Elite Series coming with a ninth-place performance at the Ed Headrick Disc Golf Hall of Fame Classic in October.
He followed that up with his most significant victory of the season – again, two weeks after a significant career milestone – at the Veterans Park Open in Arlington, Texas, topping players like 2018 PDGA Professional Disc Golf World Champion Gregg Barsby and 2009 United States Disc Golf Champion Nikko Locastro in the process.
A self-described "nomad" who hasn't lived in one city for more than five years at a time, Humphries attributed some of his success at the VPO to, ironically enough, a sense of familiarity.
"It's the first course I had played in a tournament that I knew in over six months," Humphries said. "I played 37 new courses for tournaments this year, and I finally got back to one I knew and I was able to throw shots I was familiar with, see fans and friends I was familiar with…It was a comfortable atmosphere, I think, which makes me think that next year will be even better for me."
More than that, though, Humphries said his success late in the season was thanks to a shift in mindset. After a particularly difficult showing at the Green Mountain Championship, where he finished in 46th, he committed to a new mantra: "emotionless" golf.
His finishes after the GMC? Fourth, 21st, ninth, ninth, first, first.
"Good or bad, you play it one shot at a time and you move on," he said. "…The second I started really believing that – not just saying that, but believing it – I started seeing results."
Humphries recently signed a contract with Prodigy Disc and plans to hit the road again in 2020. He'll do that alongside a longtime travel partner and a fixture on tour for the past year: his dog, Hogan.
"Regardless of my play," Humphries said, "Hogan's gonna wag his tail when I show up."
'Time and Commitment' Pay Off for Jennings
Jennings, 26, also brought a wealth of amateur experience into her season. She is the 2017 United States Women's Disc Golf Champion in the Amateur Women's division, and she followed that up with a fourth-place showing at the 2018 Am Worlds. Those performances gave her the confidence to go pro, but with a full-time job in Ohio she couldn't hit the road full-time. That semi-centralized locale, though, helped her stay competitive: Jennings still racked up 31 tournaments in 2019 and secured seven wins in the process. She said the Rookie of the Year title was one she set out to achieve before the year.
"I'm super excited that my time and commitment paid off to something," Jennings said. "I like to set goals every year. I have a few smaller goals every year, and I have a couple big goals every year."
Jennings' ninth-place finish at the Ledgestone Insurance Open was her best on the PDGA Elite Series, but it was an A-Tier victory at the Charlie Vettiner Open in July that was most significant. She topped a four-player Open Women's field that featured more experienced pros in Jessica Weese, Erika Stinchcomb, and Courtney Cannon, and she did it as the weather deteriorated during the final round.
Jennings admitted that, at first glance, she expected Weese to win the tournament. But her mental fortitude during sloppy conditions shone through.
"I just told myself, 'Don't even think about the strokes, just finish the round out the best you can,'" Jennings said. "I kept things in bounds…just playing safe at that point and trying to finish the best I could for my rating's sake, and at that point I found out I won. I didn't even know."
Even though she expects more nerves at larger tournaments, Jennings said she likes the pressure. And since those high-level competitions give her the chance to share a card with the sport's top women, it helped her snag another season highlight when she was grouped with her idol, Catrina Allen, at the Great Lakes Open.
"I've always looked up to her, and I still look up to her," Jennings said. "She knows I fangirl still…It was the best."
Jennings currently plays for the Innova Discs Crew Team and said that a full-time touring gig is not in her near future. But she'll be a fixture in and around Ohio in 2020 as she follows up a successful rookie campaign.