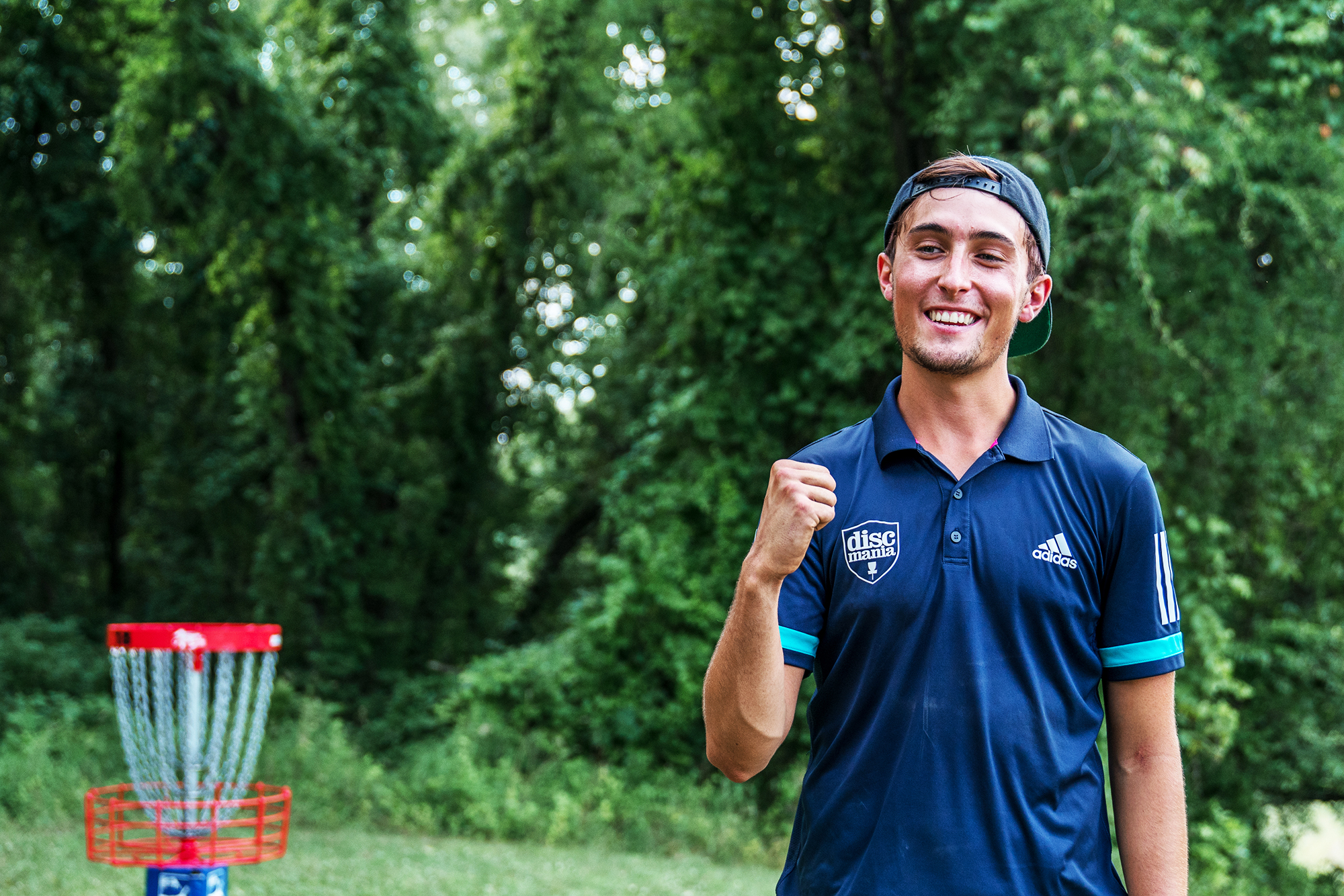 Not quite a year ago, Eagle McMahon took to a knee for an inside-the-circle putt to cash-in another birdie in the midst of a dominant peformance at the 2019 United States Disc Golf Championship. He was one off the lead with 21 holes to play, and on a lead card with less decorated opponents in Chris Clemons and Nathan Queen; another PDGA Major seemed to be right there for the taking.
One of the best putters on tour, Eagle's bid sailed high and hit the yellow band of the Innova Discatcher for a rare C1x misfire. Frustrated, he reached for his Whalesac. But instead of picking it up, he pounds his fist into it. He would pay for this momentary loss of composure – a boxer's fracture was the diagnosis, he sheepishly told the media; his hand wrapped in a blue bandage.
Eagle would bravely – or recklessly, depending on who you're talking to – take to the course to complete the tournament, but his hopes had already been dashed in a plume of white chalk dust. James Conrad went on win the biggest title of his career, and McMahon was left to face the critics, and himself, wondering what could have been.
On Sunday afternoon at the Toboggan course, McMahon showed just how far he has come since October. Stepping to his 40-foot birdie putt on the final hole, holding a one stroke advantage over Kevin Jones and tied with Chris Dickerson who was already in the clubhouse with a 13-down, McMahon met his moment. He coolly sunk his putter into the heart of the chains, closing the door on a trying chapter in the young phenom's career.
"This is the win I am most proud of," a visibly relieved McMahon told Disc Golf Network's Terry Miller. "Especially because of how everything happened last year. I was able to come back and battle against myself, and that feels really good."
Tying Dickerson for second place at 32-under was Ricky Wysocki, who put in another solid performance but could only convert on one out of five attempts from circle 2 during the final round. Jones, who started the round with a share of the lead and at one point held the lead by three strokes, cooled off after an unfortunate misfire on hole 10 led to his only bogey of the day.
There was far less drama on the Women's side, with Paige Pierce continuing a streak of dominance that often has her competing with her own all-time high PDGA player rating rather than with the rest of the FPO field. With her performance at this weekend's DGLO, she has now won a staggering 18 of 26 of the PDGA events, A-Tier and above, that she's entered since the beginning of 2019.
"It's awesome," she told Miller about what it meant to win another big title, this time in the backyard of her new sponsor. "I want to show them that they got their money's worth when they picked me up."
That may be the understatement of the weekend.
Chasing Pierce through the final round, Ellen Widboom built on already-impressive showing, riding a stretch of birdies at one point to get with three of Pierce and finishing with the day's hot round at 6-under. Her 2nd place finish is easily a career-best, and the way she finished showed that we can expect to see more of her on final round lead cards at the sport's biggest events.
The Disc Golf Pro Tour picks up again August 7th for the Idlewild Open.